Douglas SP QBK
- Size: Small 17-18"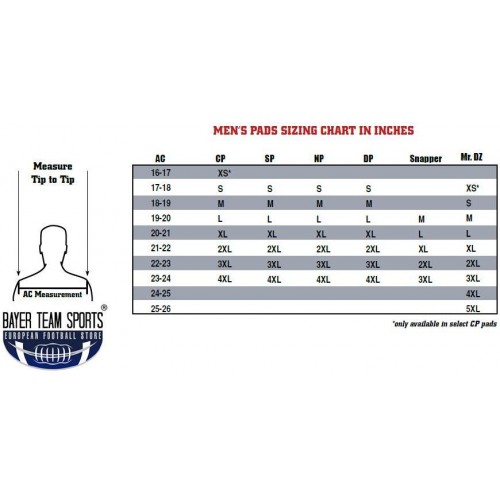 Position: QB, WR, DB More
Prostyle Quarterbacks, Wide Receivers.
This lightweight, flexible pad features a contoured shell to give players unrestricted arm motion.The small, protective hitting flaps are untied to increase flexibility when throwing and receiving.
The protective padding (cushion) of the shoulder pad is made of open cell foam. Within the foam are thousands of tiny air cells. By adhering the outer fabric to the foam, a sealed environment is created trapping the air inside of the cushion. When an outside force is exerted on to the shoulder pad shell (load spreader), the force causes the shell to push on the cushion, forcing the air to move within the cells of the foam out 360 degrees, thereby lessening the blow from being felt straight in to the point of impact. There is a much wider area of dispersion, resulting in less trauma to the body. 
Open-cell foam cushioning absorbs impact energy lessening the force felt by the player
Open-cell foam also promotes breathability and air flow for a cool and comfortable game
Lightweight, flexible pad for wide, unrestricted range of motion
Contoured shell protects without holding you back
Untied hitting flaps increase flexibility for throwing and receiving
The SP line is Douglas' original pro style pad. With nearly 14 years of production under its belt, the SP Series still remains the best priced Dual Air Cushion System shoulder pad available on the market. Douglas makes all SP's with similar specifications to the Custom Pro Pad. All SP cushions have been hand tailored to accent the front axillary pads effectively reducing arm restriction across the front of the body. This allows players a fuller range of motion.