Prohibited helmets 2021 for the NFL
NFL, NFLPA release results of annual helmet testing: Three previously approved models now prohibited
The NFL and the NFL Players Association released results of their annual helmet testing -- and for the second consecutive year, more than 99 percent of players wore helmets that are considered "top performing."
The NFL & NFLPA  worked collaboratively to test & rank 41 total helmet models, including three new models never tested before by the league. All three new helmet models are among the top 10 ranked models, evidence that improvements in helmet design continue year over year.
The advent of new and better-performing helmets also has pushed other helmets down the rankings. Three helmets that were previously approved for use are now listed as prohibited, which brings the total of prohibited helmets to 16. No player is allowed to wear a helmet that is listed as prohibited.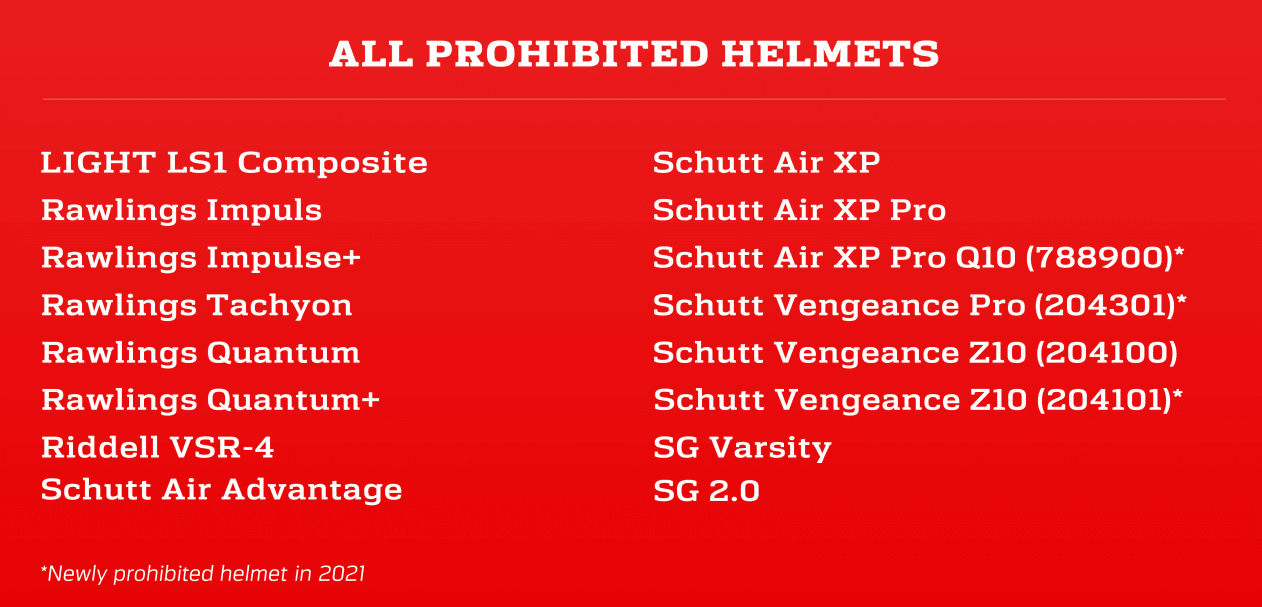 Six helmets that were previously ranked in the top group were pushed down to the "not recommended" category this year. All of the helmets that fall into the "not recommended" category this year were introduced only a few years ago as top-performing helmets, another indication of the quick pace of innovation in helmets. Eighteen percent of players at the end of last season were wearing helmets that are now placed in the "not recommended" or "prohibited" categories in the new rankings. League and union officials expect that percentage to drop significantly as players move to newer, safer models of helmets before the season kicks off.
All current NFL players wear helmets that were tested in this study. Eleven approved -- but older -- helmets that have been worn by less than one percent of players for the past two seasons were moved to a list of "legacy helmets," and they are still allowed for use.